10 Best Food Places in Singapore to Visit
A must-visit destination for foodies, Singapore's intriguing history makes it great for gastronomic offerings and culinary tours. Thanks to a tasty mix of Chinese, Malay, Indian and even British colonial influence, traditional Singaporean specialties are diverse and packed with flavour. The city's location on an island, and status as a cultural crossroads, means there is also fresh seafood galore as well as an influx of high-quality cuisine from across the globe.
Pondering a Singapore holiday for your next food-inspired getaway? Get in touch with us at Pure Destinations and we'll help you plan your ideal trip. In the meantime, tease your taste buds and tuck into our list of some of the top places to eat in Singapore…
1.Iggy's
Widely regarded as being one of the best restaurants in Singapore, Iggy's is a staple in the city's fine-dining scene. Based in the luxurious surroundings of the Hilton Singapore Hotel, in the famous upscale shopping area of Orchard Road, this high-end restaurant offers international cuisine crafted from seasonal ingredients. Ideal for a romantic meal for two, tasting and set menu prices are around £176 and feature dishes such as Hokkaido scallops and risotto with squid ink aioli.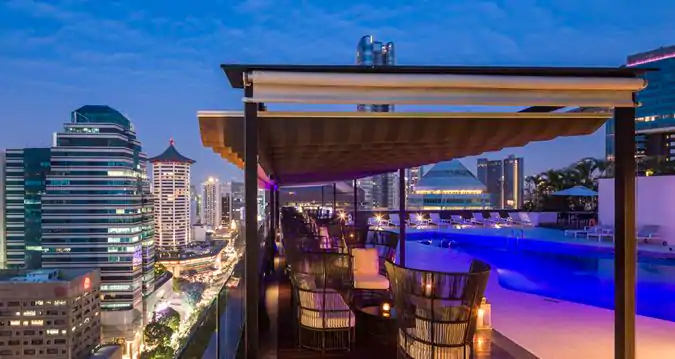 2.328 Katong Laksa
Swap three-figure dishes for more modestly priced local treats and enjoy a true taste of South East Asian cuisine. Eat like a local at 328 Katong Laksa, which prides itself as being considered one of the best places for laksa in Singapore. Dive into a fragrant bowl of spicy coconut soup filled with everything from rice noodles to egg, shrimp and chicken – a hearty but filling dish.
3.NOX – Dine in the Dark
One of the most unique places to eat in Singapore, NOX offers customers the chance to surrender their sight for a night to dine in the dark. Doing so will allow you to focus on appreciating the food with your other senses as part of an exciting immersive experience. Will you be able to guess what's on the mystery menu? Sample 12 dishes, with optional secret wine, cocktail and mocktail tasting too, and let your taste buds do the work.
4.Fu Dao Home Made Satay
Satay, marinated grilled meat served with a sticky peanut sauce, is one of the most popular street food snacks in Singapore. There's an abundance of places to get your fix of skewered chicken, pork, beef or lamb, with Fu Dao Home Made Satay at the Old Airport Food Centre notable for its unique black pepper option. Just prepare for long queues – they'll help you work up an appetite!
5.Shinji by Kanesaka
Splash out on a memorable eating experience by dining out at Shinji by Kanesaka – an ideal spot for a first honeymoon meal. The brain child of Kanesaka, a Michelin star-rated chef, this Japanese fine-dining restaurant is regarded as one of the top eateries in Asia. Focusing on fresh produce, you'll be served sushi, soup and fruit at the chef's discretion.
6.Burnt Ends
For something a little different, head to Burnt Ends – an Australian-inspired barbecue restaurant, which grills its prime cuts on a distinctive kiln designed by its chef and owner. Not just one for meat lovers, you'll find everything from wagyu beef to crab, langoustines and burrata, as well as flavours such as orange and fennel, on this distinguished eatery's creative menu.
7.Long Beach Seafood Restaurant
A famous spot for seafood, Singapore has many delicacies that hail from the surrounding Indian Ocean and South China Sea. Enjoy the catch of the day, or sample the local favourite of spicy chilli crab, at this bustling beachside restaurant, where you can escape the city's hustle and bustle.
8.Hawker Centres
One thing Singapore isn't short of is hawker centres. A collection of stalls selling street food for affordable prices, these casual food courts take up a variety of spaces and offer a range of quick eats and different types of cuisines.
Chinatown's vibrant Smith Street is one of most fun places to grab a bite – from a swift snack to a selection to share. You can eat here all day and well into the evening, from 11am to 11pm, as you mix in and out of the crowd while tucking into everything from stingray to satay and noodles.
You can also sample hawker cuisine at the popular La Pau Sat, a food court housed in the Central Business District, or at Maxwell Road Food Centre which is most famous for being the home of the renowned Tian Tian Chicken Rice Stall. For a change of pace, also check out the Tekka Centre for a taste of Little India's curries.
9.Ya Kun Kaya Toast
It's not all about breakfast when it comes to must-eats in Singapore; the city-states' 'national breakfast' is also one to try. Start the day off right with a trip to one of the popular Ya Kun Kaya Toast Toast outlets, where you'll take a bite of grilled bread slathered in butter and kaya jam spread, which is a creamy concoction of coconut milk, egg and sugar. The full set meal includes soft-boiled eggs for dipping and a hot steaming cup of coffee or tea. Think of French toast with a Singapore twist!
10.Ya Hua Bak Kut Teh
Pork ribs tea or 'bak kut teh' is another local delicacy from the Lion City. Ya Hua Bak Kut Teh is synonymous with the flavoursome bone broth and now has several branches across Singapore, and has been serving up steaming bowls since the 1970s. For those with adventurous stomachs there is much more on the menu including pig's tail soup. You said you wanted to eat like a local…
Inspired by these best food places in Singapore to visit? Contact a Personal Travel Expert at Pure Destinations to chat about your next adventure – call us on 0800 0856 846